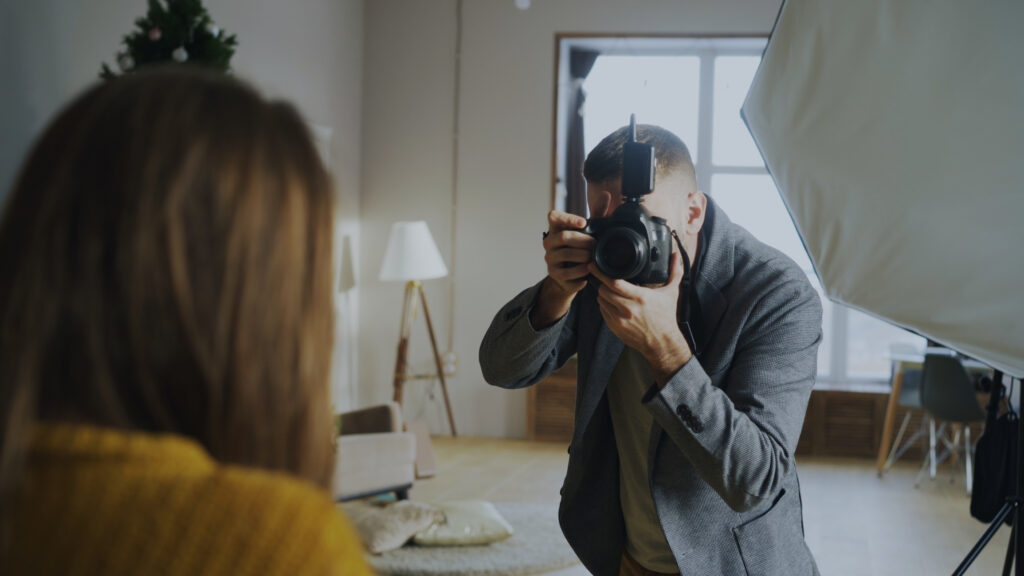 Your confident smile can contribute to your career goals in countless ways. A well-done portrait photo, or headshot, can help identify you to clients, promote your business, and network with colleagues. Whether you hire a professional photographer or take the photo yourself, there are certain factors to take into consideration so that you'll look your best.
Lighting
For a great professional photo, you need the right lighting. A careful balance of light and shadow should highlight your eyes and bring out the best features of your face while minimizing any less attractive areas. The total effect will allow you to look friendly, welcoming, and competent in your headshot.
Natural light produces great results and can be easy to work with. If you choose to shoot outdoors, make the appointment in the afternoon for the best angle of the sun. The midday sun's harsh glare can make facial features look washed out. If you take photos indoors, you may need more than one light source to avoid unflattering shadows. Professional photographers will use soft, diffused lights and reflectors to contour your face in an attractive way.
Skin Care
Sure, you can touch up photos, but it's better to have clear, beautiful skin to begin with. Start preparing several weeks before the photo with a good skincare routine involving cleansing, exfoliating, and moisturizing. If you have a tendency toward breakouts, there are many products to reduce oil and give you clear skin.
You may also consider visiting a salon or med spa for a facial, chemical peel, microdermabrasion, or dermal fillers to reduce wrinkles. Botox treatments can help with a variety of conditions in addition to smoothing out wrinkles. These procedures can improve the tone and texture of your skin. However, be sure to make your appointment a couple of weeks in advance because it is normal to experience a little redness afterward.
Poses
For a professional headshot, you may think you should be stiff and formal. Surprisingly, the more relaxed you look, the better your picture will turn out. You should feel comfortable, with your shoulders and arms relaxed and natural. But, keep good posture and don't slouch.
Squaring your shoulders to the camera can look too much like a mugshot. To avoid this, turn your body at an angle and look slightly over your shoulder. Other successful poses involve crossing the arms, leaning against a wall, or sitting at a desk.
What to Wear
Naturally, you'll want to wear a suit or other business wear, but pay attention to the details. Wear plain, solid colors, and avoid stripes or patterns, except perhaps on a tie. Dark colors such as navy blue, black, or charcoal gray look great. Make sure your clothing fits well to your body without wrinkles or sags. Long sleeves usually look best.
Women should choose a flattering neckline and choose slim and classic styles for necklaces and earrings. Avoid necklines that are too low or sleeves that are too short. Men will need to decide whether they want to wear a tie or an open collar under their jacket.
Smiling
For many business fields, a broad, genuine smile will draw people in and make you appear approachable and trustworthy—and you might even look younger. A genuine smile involves more than just your mouth. Your eyes must show a smile, also. A professional photographer may joke around with you to capture a sincere smile.
Some people may feel self-conscious showing their teeth. In that case, aim for a closed-lipped smile. This may also be a solution for people who get double chins or narrow eyes while smiling. A serious look may also work, especially if you want to project a sincere demeanor.
Where to Use Them
Once you've selected the headshot you want to represent you in a professional context, you'll find yourself using it in more ways than you might think. Upload it to your website as part of your "About Me" section, and use it as your profile picture on your social media accounts, especially LinkedIn.
There's some debate on whether a headshot should be used on a résumé. Most career counselors recruiters strongly discourage the use of photos on résumé for a number of reasons. A photo can subtly influence biases and lead to discrimination. Further, a photo can interfere with résumés that are scanned through applicant tracking systems (ATS).
A professional headshot can introduce you to potential employers, clients, or associates. That's why you should prepare in advance for your photoshoot. You may get lucky with a simple snapshot with your smartphone, but why not take the time to do it right. With good planning, you can look great in your professional portrait, and you'll proudly display it as part of your business profile.
Read this next: What You Need to Improve Your Brand Image